A Variant Cover, in the comic book industry, refers to the practice of releasing a single issue of a title with one or more alternate cover designs.
Issues of IDW's Sonic the Hedgehog series typically release multiple covers for each of their issues, with certain disignations being applied to them, usually one or two "standard" covers that are widely available, and additional covers that can only be obtained through special means.
Lettered Covers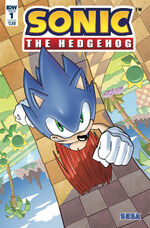 Covers that are numbered with letters of the alphabet (Cover A, B, etc.) are considered to be the "standard" covers of an issue, which are printed in vast numbers and are the ones readily available in all comic retailers from the get-go.
The retail prices of copies with these covers are roughly the same as most ordinary comics, averaging at around $3.99.






Retailer Incentive Covers
Issues with these covers, labeled with the initals "RI" followed by its own lettered designation, are distributed to retailers when a certain number of copies (of the standard cover versions) are ordered. Normally there is just one of these covers for each issue, for which a retailer needs order 10 copies to recieve, though some have had three at most, with order requirements of 25 or 100.
These editions of the issues are usually more expensive than their standard counterparts due to their limited obtainability, coupled with the fact that retailers are eligable to recieve just one of each, with the price increasing with each required order threshold. Prices have been known to range from $9 to $70.


Other Cover Types
Retailer Exclusives (RE) are sold exclusively through certain retail chains.
Convention Exclusives are given exclusively at conventions. Although given out for free, their scarcity results in an increased value on the secondhand market.
Additional printings: if an issue manages to sell out in a particularly short amount of time, a second printing, with altered cover art, will be put out to meet demand. Sometimes further additional printings will be released if the issue continues to sell out at a fast rate.